Stepping into your first appointment with a divorce lawyer for women can be intimidating, so it helps to know what to expect. Will there be time to ask questions, and when is that appropriate? Use this guide to learn about things you can expect to encounter in your first few sessions after deciding to work with a divorce lawyer.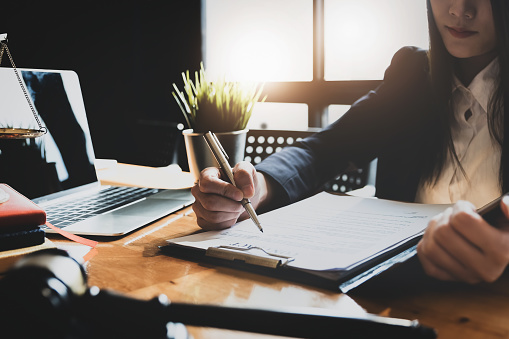 What to Expect When You Hire a Divorce Lawyer for Women
1. One Free Initial Consultation
Many lawyers will meet with a client before the official hiring to hear the details of your situation and provide some clarity on the types of services they can offer. That comes in the form of a free initial consultation. Arrive with information prepared so that you can make the most of your session. The attorney will make you feel welcome and walk you through ways they might be the right fit to guide you through the complex divorce process.
It is always appropriate to ask an attorney about their qualifications and experience, and a qualified lawyer will always be thrilled to share. Use this consultation to learn whether the legal team is the right match for your individual needs. Find out if they are familiar with handling similar divorce cases, especially if they involve a complicating factor, like custody.
2. The Official Agreement
Once you make your decision on whether you'd like to choose this divorce lawyer, you'll be able to figure out the billing details and both parties can sign the official agreement. The agreement will outline elements of the transaction like what services are to be provided, the type of support you'll have from the firm (number of people working on your case), and more.
The agreement will include all details about payment and billing, which are typically conducted by the hour or at a flat rate. There may also be a retainer fee included in the billing, which is standard for most legal teams.
3. Learning Your Case Front to Back
Once the agreement is signed, your divorce lawyer will want to learn everything about your case and you as a client. This will help them have a strong foundation upon which to build your case and ensure you get what you need.
At this stage, your lawyer will have lots of questions for you about shared assets, your marriage, your spouse, and your children, if you have them. They may ask personal questions, but this is so that they can protect you, your assets, and your loved ones in court. You can also bring questions to help you understand the proceedings that lie ahead.
4. Deciding Next Steps
The first thing your lawyer will do after learning the details of your case is to outline the possible options for you. These options refer to the many different legal processes for divorce that are available to you. Do you want to collaborate with your former spouse, or must the divorce be taken to court? Answering these questions with your attorney will help you decide on the best option for you between options like:
Mediation: sign an agreement with your former spouse with a third party mediator outside of court

Litigation: settle your divorce in court

Collaborative law: negotiate terms outside of court with a divorce coach or other specialist
A good divorce lawyer for women will make you feel comfortable and ensure that things are explained in plain and simple terms in a way that all parties can understand. Part of their job in these initial stages of the legal proceedings is to demystify the legal language and court proceedings that surround divorce. They translate and put the decisions in front of you so that you can make them appropriately.
5. Pay Court Fees
As you move forward in the court proceedings, the client rather than the law firm is expected to pay the costs that arise along the way. Fees differ in amount depending on the state and can pop up along the way from the moment you begin filing for divorce. They typically range between $150 and $400 and can include additional charges when children are involved. The fees you may encounter can include:
Deposition fees

Investigator fees

Filing fees
A good attorney can help you to anticipate these types of costs and prepare for them. Be sure to ask about the types of fees that may arise during legal proceedings so that you can be prepared to pay them as they come up. A competent lawyer though should already inform you all about this to help you understand the basics of the process.
A good divorce lawyer will be skilled in making you feel comfortable and informed about your legal proceedings. You don't have to worry or stress about divorce proceedings when you hire a dependable, professional legal team to handle your case for you.