Did you know that slip and fall accidents are one of the leading causes of emergency room visits each year? If you experienced a slip and fall on someone else's property, you might be entitled for compensation. Speaking with a slip and fall lawyer in Houston, TX can help you make a legal plan for recovering medical expenses, lost wages, and other potential damages.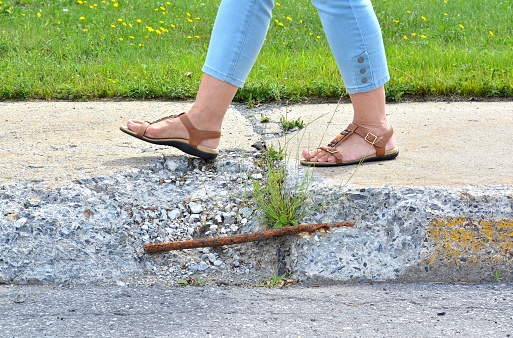 Ask a Slip and Fall Lawyer in Houston, TX: 10 Frequently Asked Questions
1. What Is the Definition of a Slip and Fall?
A slip and fall is a type of accident that occurs when a person trips or stumbles and experiences an injury as a result. When you report a slip and fall, it becomes a kind of personal injury claim in a special category called premises liability. The situation changes a little in the case of a fatal accident. If you have a loved one who lost their life as a result of a slip and fall, your claim would be for wrongful death.
2. What Is the Typical Payout for a Slip and Fall Claim?
The value of slip and fall claims ranges dramatically depending on the severity of the injury. With high medical costs and significant lost wages, a claim could yield hundreds of thousands of dollars. Some cases have even won millions. Typically, the payout is in the $10,000 to $50,000 range.
3. Who Is Liable in the Case of a Slip and Fall?
If you are on someone else's property, it is usually their responsibility to uphold reasonable safety standards or to warn you of potential hazards. In slip and fall cases, the property owner could be found responsible. However, if someone else was in control of the premises at the time, such as a renter or a manager, that person might be the liable party.
4. What Types of Damages Can Be Included in a Slip and Fall Claim?
As with most personal injury claims, a slip and fall payout can include:
Medical expenses

Lost wages

Emotional damages

Pain & suffering

Loss of enjoyment of life

Loss of consortium
Your lawyer can help make sure that the claim you submit reflects all of the damages you suffered, maximizing its value.
5. What Is the Statute of Limitations?
The term "statute of limitations" refers to the amount of time you have to file your claim before it is void. In Texas, the statute of limitations for personal injury claims is 2 years, starting from the day you were injured.
6. Where Do Slip and Fall Accidents Occur?
A slip and fall can occur almost anywhere. They happen most frequently in grocery stores, restaurants, work sites, and private homes.
7. What Oversights Can Lead to a Slip and Fall?
Slip and fall accidents generally happen on slippery surfaces or cluttered areas. A spill in a grocery store aisle or a restaurant that goes unattended can cause an accident. Broken stairs, chipped tiles, and unfinished surfaces represent another type of hazard. On construction sites, debris and unattended equipment lying around can be dangerous as well.
8. What If the Accident Was Partially My Fault?
If you are partially to blame for the incident, you can still be compensated as long as you were not more than 50% at fault. Your payout will be reduced according to the percentage of the liability you share with the other party. This situation is referred to as comparative fault, which is explained by the Cornell Law School.
9. What Should I Do After I Experience a Slip and Fall?
First of all, you should seek immediate attention. In addition to getting you the care you need, a visit to the ER creates a record of the injury which can be used as evidence if needed. News Channel 10 offers a list of emergency numbers you can call if your accident occurs in Houston. Second, you should get in touch with a Houston slip and fall lawyer who can start advising you on how to submit your claim, build your case, and fight for an appropriate amount of compensation.
10. What If My Accident Happened at Work?
Workplace accidents are common, especially on construction sites. The Occupational Safety and Health Administration provides specific guidance that employers should follow to prevent same-level falls.
In the case of a workplace injury, you might need to collect workers' compensation benefits. That will depend on whether or not your employer has workers' compensation insurance and whose negligence led to the accident. Your lawyer can help you sort out the details to ensure that you submit the correct kind of claim.
You Don't Need to Take the Fall Yourself
Chances are if you fell on someone else's property, you weren't just being clumsy. You should not have to bear the financial burden of a serious injury, especially if it resulted from another person's negligence. A skilled personal injury attorney can guide you through the legal system, strengthening your case with professionalism and expertise.